Shorten Your Test Development Time with ARC's Mixed Signal Automated Tester (MSAT)
Whether you are testing radar systems for the Department of Defense (DoD), or the next actuator circuit card for aircraft landing systems, ARC's Mixed Signal Automated Tester (MSAT) offers flexible automated testing capabilities for nearly every budget.
ARC's MSAT is a mixed signal tester system that features the latest in test system-on-a-chip technology and a standard suite of mixed signal test equipment for use on nearly every test application (High Speed Digital Stimulus-Response testing, Analog and RF). From test engineers to budget-minded managers seeking maximum efficiency at the lowest possible cost of ownership—our standard mixed signal tester provides you with the necessary tools to test your products efficiently and accurately to keep your organization up to speed with production.
Shorten your test development times, improve hardware and software standardization, and control your future test development costs: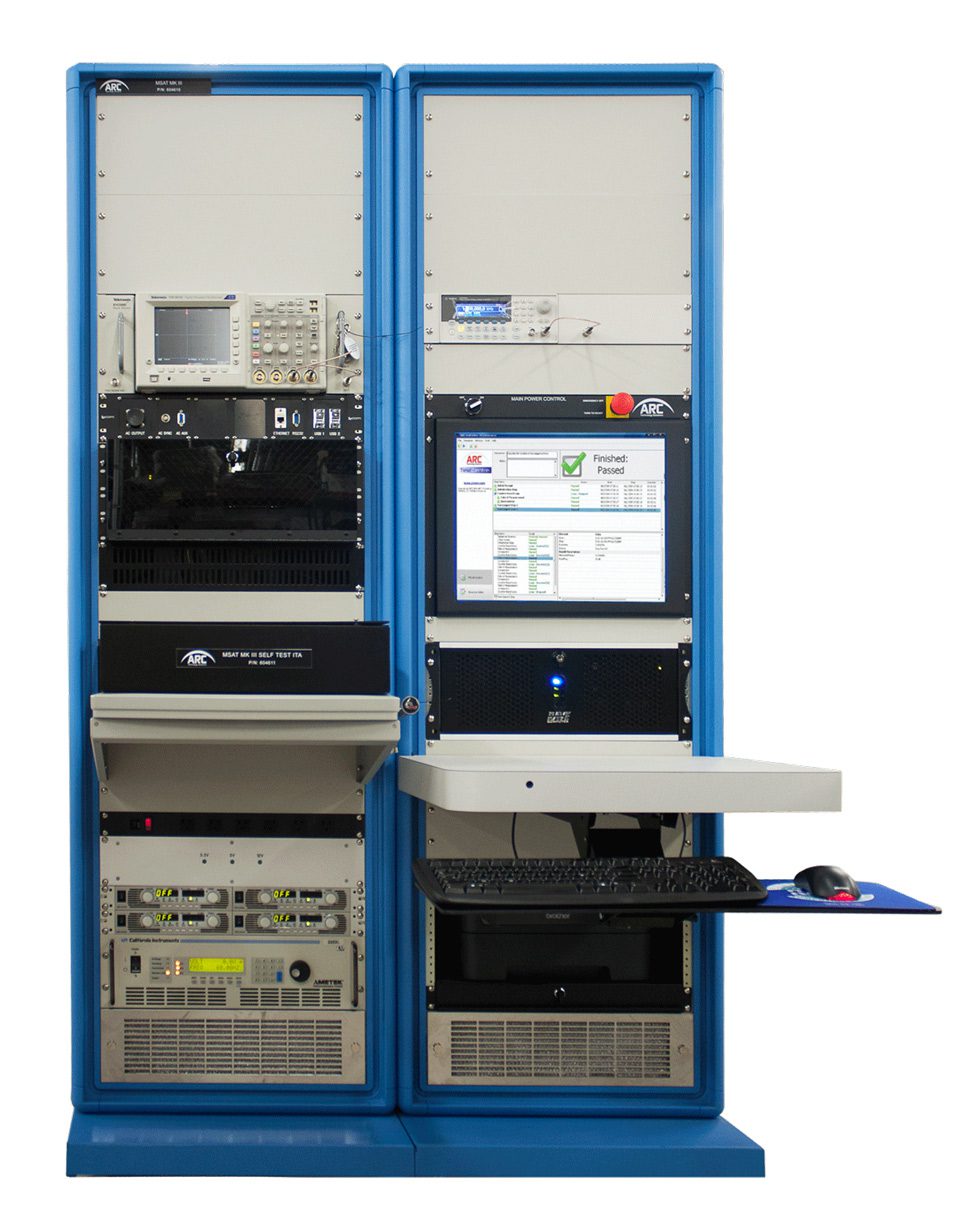 This highly integrated test platform incorporates:
ARC's TestCentre™ development software (flexible test executive based on LabVIEW)
ARC's DSX high speed digital stimulus-response technology (offering up to 384 Digital I/O)
A Virginia Panel interface module
PXI instrumentation
and other off-the-shelf test and measurement equipment (standard and optional configurations)
Innovation in Test Fixture Design Lowers your Per-Device Testing Costs
The commercial off-the-shelf equipment can be coupled with an innovative test fixture design with a Configurable Interface Device (CID), which is a flexible, dynamic test fixture allowing increase test flexibility at reduced cost. Connect test equipment to a device under test via a standard Virginia Panel connector to the CID and then with a simple change in a personality card, you are up and running testing a different device, saving thousands of dollars by reusing the adapter technology for multiple circuit cards or devices.
Expert Test System Design Guaranteed to Improve your Testing Approach
With ARC's design capabilities, you can achieve superb signal integrity via constant impedance and short signal lengths for the most demanding test applications. Ultimately, you'll be able to keep your organization up to speed by production testing your products efficiently and accurately with MSAT.
We guarantee that our ARC's Mixed Signal Tester is robust enough to satisfy your most demanding requirements. Join other customers in the aerospace, defense, depot repair and commercial device markets that have realized these benefits with ARC's MSAT system.
To learn how the MSAT can help you reduce test department sustainment costs, contact an ARC Sales Engineer today.
View the Data Sheet
Schedule Demo
Do you have a complex engineering project?
Schedule a demo or onsite consultation with ARC today!
How Can Our Flexible Approach Help You?
For a free assessment of your current engineering challenge.